Cross-reference reports are reports that can contain information about multiple unrelated accounts. These are typically needed for internal management purposes, such as showing a consolidated listing of all holdings under management listed by account, or a listing of trades or other transactions occurring in within a given time period. These types of reports can be useful for reviewing and managing holdings at a macro level and sometimes are needed to respond to the request of auditors. The cross-reference version of performance reports are usually used to generate composite performance figures which can be used in marketing your money management services.
Cross-reference reports appear in their own section of the "Available Standard Reports" on the Reports Main Menu as shown below. In the User Reports section on the left, customized cross-reference reports are distinguished by the prefix "xr_" in the report file name, e.g. "xr_holdings1.rtm".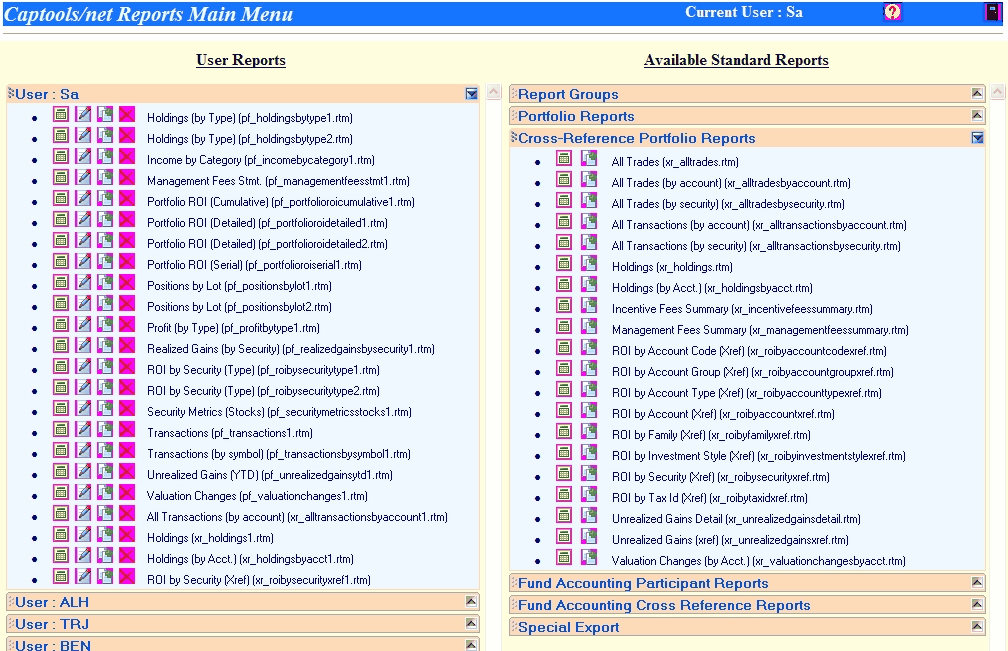 E-mail to Client Disabled - Cross-reference reports have their option to e-mail the client disabled. This is intentional because such reports often contain information from accounts of multiple un-related clients, so disabling the e-mail capability protects you from a potentially embarrassing situation. If you wish to generate a report from multiple accounts involving related clients, e.g. spouses and children, you can create a portfolio type report, and set up the relevant accounts to merge reports on your desired criterion as described in Report Grouping.
Time to Generate Report - The time required to generate cross-reference reports, or any Captools/net report will be proportional to the number of accounts and the degree of report complexity. Reports requiring significant computations such as performance reports will take more time, in which case you can move on to other tasks and later check "Saved Reports" for completion if many accounts are involved.