Captools/net is designed to operate on Microsoft Windows 7, 8, & 10 and Server 2012 and their successors. Microsoft Windows 10 Pro should be sufficient for most Captools/net users. However, Microsoft Windows Server 2012 (or successors) is recommended as the Captools/net server operating system platform for installations that will be supporting more than 5 users and/or more than 1000 accounts. Such users should also have systems with at least "quad-core" processors. "Home" versions of Windows should only be used for single user installations with the precaution that some "browser-based" operations may be delayed due to restricted IIS functionality in those versions of MS-Windows.
Captools/net installation is performed from a download obtained from the Captools.com website. However, before the software will operate in a fully functional mode, the license User Id, License ID, and Key code must be installed. The User Id and License ID will be issued with the CD, and/or sent to you by email. The Key code will be generated when the program is first run through a registration process that requires your computer to have access to the internet so that the Key code can be generated from the Captools website.
Because your Captools/net key code will be tied to the computer upon which it is installed, you should be certain in advance that this is the computer on which you plan to run the software in the foreseeable future. Changing you installation computer will require de-installation of Captools/net from the prior computer and reinstallation on the new computer using a new key code.
User Log-On Level (IMPORTANT)
The person who installs the Captools/net server programs must be logged in with full Windows "Admin" privileges, with a non-blank Windows log-in password in order to successfully complete the installation. This is because installation involves modification to some Window's settings that can only be done with full "Admin" privileges. You can use the Windows "Control Panel/Accounts" utility to specify a password if that is missing.
MS-Windows Internet Information Services
Because Captools/net needs the services of the MS-Windows Internet Information Services (IIS) component, the Captools/net installation process will typically activate the Windows IIS component because it is not typically activated on a new computer. The IIS is used to host some of the Captools/net functions such as imports and reporting through the web-browser, though this is confined to your computers.
Installation Speed and Complexity
Because Captools/net "Client/Server" architecture employs some of the more advanced MS-Windows services such as Internet Information Services (IIS) the installation of Captools/net will take longer than a typical desktop program installation. Installation on a server grade machine may take about 5 minutes, while installation on a non-server desktop machine may take longer, depending upon CPU and hardware speed.
Because the aforementioned MS-Windows services used by Captools/net require the correct MS-Windows security settings, failure to achieve the correct settings or subsequent altering of these settings can adversely affect Captools/net operation. If you install other software on your system which alters security settings or if you manually change these settings, it will be helpful if you keep a record of these events to assist in system diagnosis if Captools/net operation is subsequently affected.
MS-SQL Express Installation Advisory/Warnings
The Captools/net installer installs a Microsoft authorized distributable copy of MS-SQL Express Database Engine during the installation process if it does not find an existing copy already on your system.
Windows Scripting
During Captools/net installation, and whenever the Captools/net "Server Control Panel" program is run, several Windows "scripts" are run to ensure that MS-Windows is properly configured with respect to setting Captools/net program, folders and file permissions needed to allow Captools/net to operate. When these scripts run for the first time, if you have MS-Windows AntiSpyware installed (or other similar security software), you may get the following notice for each script run (file path will contain "Captoolsnet Server \WebScripts", but otherwise differ from script to script).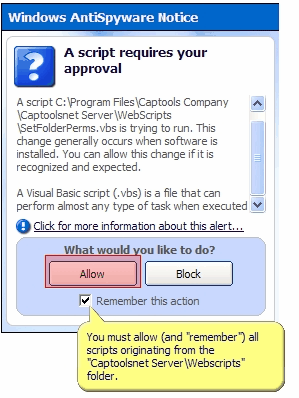 You must "Allow" these scripts to run, and we suggest that you check "Remember this action" for each. If execution of these scripts fails, Captools/net will not operated properly. If you see a Windows error message during the Installation process or at the time of the launch of the Captools/net Server Control Panel program, please see the appendix topic, Windows Scripting Repair for steps to take to resolve this problem.
Remote Hosting Services
Some Captools/net may want to use a third party remote "Virtual Machine server hosting service for the installation of the Captools/net server. Although generally more costly than purchasing and maintaining your own server, these offer advantages such as installation in a secure, environmentally controlled location with 24/7 on line availability and access to high speed internet connections. Requirements for such services are outlined in the appendix topic Remote Hosting Services.
Other Installation Issues/System Troubleshooting
The appendix topic System Troubleshooting covers installation and other system issues that we have encountered and resolved. Some of these are briefly noted below with links to the appropriate subtopic, if applicable. Some of these issues arose in Windows XP and Server 2003 and have not been encountered in more recent versions of Windows.
Installation Drive - If you install the Captools/net server programs on a different drive than the drive containing the MS-Windows installation, you may need to do additional configurations as described in the topic Installation Drive. Furthermore, you MUST specify the actual physical drive and path for the installation, rather than a "mapped" drive and path.
Upgraded Windows OS - If you are installing on a computer which has had its operating system upgraded from a prior version of Windows (e.g. from Windows XP or Server 2003), you may encounter difficulties installing/configuring the required operating system components.
Previously Installed MS-SQL or IIS - Similar problems may also occur if you are installing on a system on which programs which used MS-SQL and/or IIS were previously installed, and then subsequently uninstalled. This is because many uninstallers do not remove all traces of the prior programs, leading the Captools/net installer to think that the applicable components are already installed. Special troubleshooting may be required to resolve such issues. Contact Captools Co. support/programming staff with the particulars of your situation so we can assist you.
Other Server Programs, Port Conflict (e.g. "Skype") - Other server programs on your server system may not be compatible with Captools/net if they use "Port 80" to communicate. An example of this may be "Skype" the VOIP telephone program. This is because Captools/net uses that port. See the topic Alternative IIS Port Specification for how you can re-specify Captools/net's port.
Third Party Firewall Settings - Third party firewalls (i.e. firewalls other than Windows firewall) may prevent operation of Captools/net unless they are properly configured. We believe that the MS-Windows firewall should provide adequate firewall protection, without the need for a third party product.
Scripting Functionality - We have occasionally encountered computers whose ability to run Windows scripts have been impaired. If this is the case, you will typically see a Windows error message as soon as you run the Captools/net "Server Control Panel". See the appendix topic, Windows Scripting Repair for steps to take to resolve this problem.
Registry Permission Settings - We have encountered some users who are not able to run Captools/net browser based functions due to missing registry permission settings. The trouble shooting topic Registry Permissions discusses how to resolve this problem.
Microsoft Small Business Server - The "Small Business Server" version of Windows is no longer offered and will not be supported for any new Captools/net installs. The default configuration of the MS-SBS required some additional manual system configurations to allow Captools/net to function properly.