The Captools/net programs must have access to the Captools folder under the HKEY_LOCAL_MACHINE key in the MS-Windows registry. Since the browser based Captools/net programs run under an anonymous "USERS" or "IUSR" account under windows, at least one these accounts must be granted "Read" permissions to the Captools registry folder. Without these setting you may see a message similar to the following when trying to perform a browser based function:

Or

Resolution
If you get one of the above errors or similar errors when trying to run a browser-based function, perform the following steps on the Captools/net server computer:
Launch the registry editor from the MS-Windows "Start/Run" command: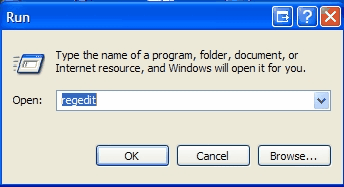 Open the HKEY_LOCAL_MACHINE root key and then find and select the "Captools" folder under the "Software" folder, performing the steps as described below to examine whether their is a "Users" or "IUSR" user with Permission settings to allow "Read":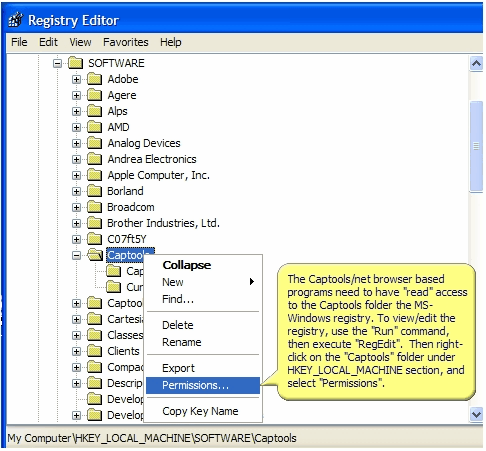 Windows XP/Pro
The following steps are applicable if you are using Windows/XP Pro. See below for Server 2003.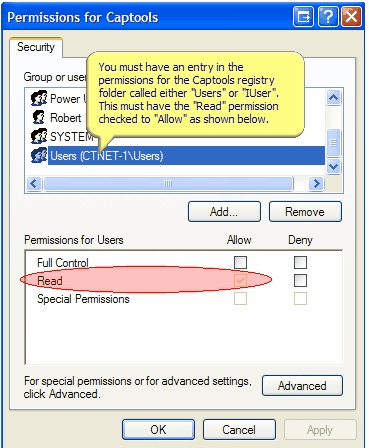 If you do not have a "Users" permissions entry, with "Read=Allow" for the Captools folder as shown above, you must add either a "Users" or "IUSR" entry to the permissions as shown in the examples below, starting by clicking on the "Add" button: