It is likely one of your main objectives in using this software is to be able to generate a wide variety of reports from your data for your own use, and for your clients if you are using the software in a professional capacity. With this in mind, Captools/net provides a powerful and flexible reporting system. The primary features and highlights of this system are summarized as follows:
Server-Based Report Generation - Reports are generated by a server application dedicated to reporting. This allows reports to be run independent of and in parallel with many other Captools/net functions, facilitating generation of a large number of reports in background batch mode. Optional report scheduling (available in higher level Pro and Enterprise versions) permit you to generate reports at a pre-scheduled time with minimal manual intervention.
Browser-Based Report Control - Reports are configured and run through your web browser, permitting you to run reports from any computer which can access your server.
Browser-Based Report Viewing - Report results may be generated in either HTML or PDF format. Both of these may be viewed through a browser or may be printed if you need report hard copy. PDF format reports may be electronically archived, eliminating the need to generate and store hard copy reports. At higher Pro and Enterprise versions, PDF reports may also be automatically sent to clients by email and/or made accessible to clients through your server if you choose to expose it to the internet. At these program levels you may also optionally (subject to license surcharge) give clients log-on access for "real-time" report generation from their accounts. PDF reports require that you have a PDF reader program such as the free Adobe Acrobat Reader in order to see the reports.
Standard Report Customization - Captools/net includes dozens of standard reports representative of the types of reports that most users seek. Each of these standard reports are highly customizable through the browser interface. Typically you can select from hundreds of data fields, specifying field order, width, data format, coloration, sub-totalling, graphics options, etc., so as to create your own version of each report containing the data items you require. Pro and higher versions also provide additional support for customization of report page headers and footers and expanded inclusion of descriptive text within the body of reports. Some more advanced report types and data fields are also limited to higher levels of the software.
Advanced Report Customization - Although the vast majority of users will find the standard report customization sufficient to meet their needs, still further customization is possible for users who are willing and able to work with the report rendering engine, called Report Builder, used by Captools/net. At the Pro/Enterprise "Level 3" or higher, Captools/net provides a tool (not yet implemented) on the Server Control Panel to directly access the Report Builder design interface. Documentation for using this must be obtained from Digital Metaphors, Inc., the makers of Report Builder. Users who want to take advantage of this capability should have some programming background or plan to hire someone who does. You should also understand that Captools Co. can only offer limited technical support regarding reports that have been customized using this capability. (Note: any changes to Captools/net reports must be done through Captools/net since Captools/net stores additional information in the report file of which the Report Builder is not aware.
Consolidated Reporting - Most higher level versions (except Individual versions) support generation of reports which merge data from multiple accounts, using the Client Id, Family and/or other criterion for specifying the accounts to be included. This permits you to generate consolidated reports which show asset allocation and investment performance across all relevant accounts.
Cross-Reference Reports - Pro and higher level versions support generation of cross-reference reports which span all accounts or a filtered subset of accounts. These are useful for management purposes and for generating investment performance composites.
The Captools/net reporting functionality can be accessed from the CT/net desktop via the Reports submenu:

Or it may be accessed directly from the browser through the Captools/net browser Home page (click on "Home/Captools/net Web"):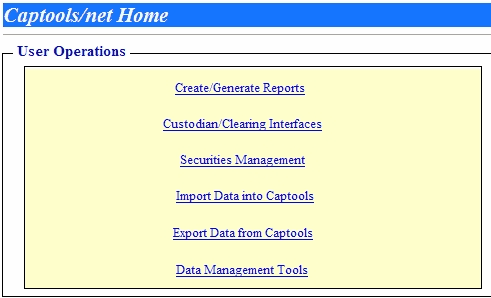 Once accessed you may run existing reports or create and run customized reports as discussed in the following topics.