For many users Captools/net will be the primary application or one of the primary applications central to their job or business. Commensurate with its importance and power, CT/net, can place a lot of information in front of you. This can pose a practical problem of finding enough screen space to simultaneously view the CT/net desktop, Captools/net web interfaces, as well as your other applications.
To solve this dilemma, you can take advantage of MS-Windows XP's multi-monitor capability to effectively expand the area of your screen viewing space. Basically, Win XP can recognize up to at least six video adaptors on a PC. Most laptop PC's already have two video adaptors, the one which drives the built-in screen and the one which drives a monitor connected to the external video connector.
To implement a second monitor (or third, fourth, etc.), simply connect the extra monitor to the available connector on the back of your computer. Then use the Win XP Control Panel, "Display Properties" to extend the desktop to the additional monitor: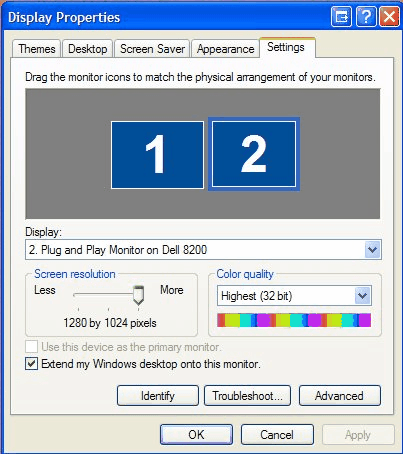 To extend the Windows desktop, click on the representation of the 2nd (or 3rd, etc.) monitor on the Display properties form, then check the "Extend my Windows desktop onto this monitor". Set the resolution to the native resolution of the attached monitor in order to get the clearest screen view.
Monitor Management Software - If you are using multiple monitors, we have found that it is useful to license inexpensive third party software that helps you move your applications around on the monitors. One such package is "UltraMon" from Realtime Soft at www.realtimesoft.com.
Multiple Instances of CT/net - Because CT/net uses a "tabbed" view approach to displaying data tables, you view one table at a time. If you find that you want to view more than one table simultaneously, you can simply launch a second instance of CT/net on your desktop, moving it to a second screen. The second instance will allow you to view a second table.