If your Captools/net Server Control Panel indicates that IIS has failed to start, even after performing the "Utilities/Windows Configuration" process, then the problem may be that there is another application using the IIS port. An example of this is the VOIP phone program.
On opening the IIS manager using the following Server Control Panel command,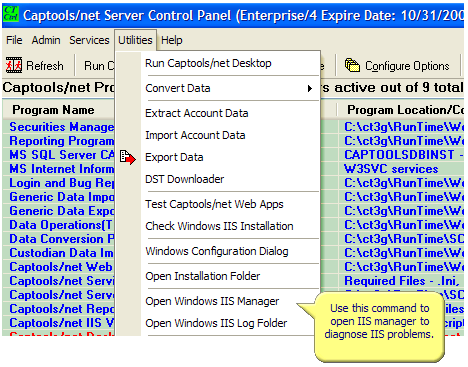 you will see the notation
"Unexpected error 0x8ffe2740 occurred."

The solution is to change IIS's port (see Alternative IIS Port Specification), or to change the conflicting application's port specification. In the case of Skype, this can be done by using the "Connection" tab option in the Skype "Options" dialog, and uncheck the "Use Port 80 and 443 as alternatives for incoming connections".
Event ID : 7023
The IIS service would not start, with the following messages in the Event Viewer:
Event ID : 7023
The World Wide Web Publishing service terminated with the following error:
The specified procedure could not be found.
Solutions:
1.) To resolve this, uninstall IIS and reinstall it. After rebooting the machine Run the Captools/net Server Control Panel and under the Utilities menu, run the Windows Configuration Dialog and just click Ok to re-run the scripts.
2.) Links : http://www.webservertalk.com/archive120-2004-6-260340.html and http://support.microsoft.com/?id=319133
If there is a problem where after installing the code red patch where IIS dose not work, but worked OK before that, this may be resolved it by setting the following services to "Disabled":
Windows Management Instrumentation
Windows Management Instrumentation Driver Extensions