Automatic report generation task (Pro Level 3/above) generates reports for accounts at the specified frequency. Reports are output to the server hard disk in either PDF or HTML format for later printing or emailing. Scheduling automatic report generation requires establishing one or more "Reports Sets" within which you specify the desired reporting frequency. Report sets are covered further under the topic Scheduled & Saved Reports. However you must first activate the triggering of scheduled reports via the "Enable Automatic Task-Starting" control below before scheduled reports will run. You can also use this control to globally stop the generation of these reports.

Account Record Setup - In order for automatic reports to be generated for an account, the account record must specify what reports will be run: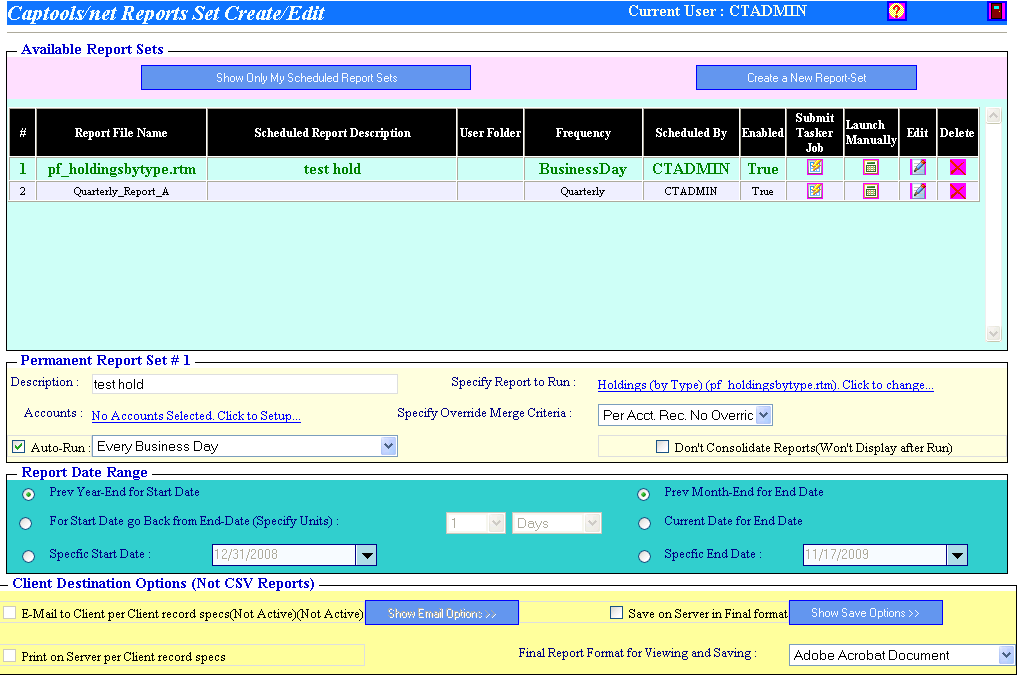 The names of the reports are defined when a report is set up (see topic Creating/Customizing Reports). If a report is not specified in an account record for the same frequency as the tasker is running the automatic reports, then the report will not be run. Monthly, Quarterly, and Yearly reports are assumed to be desired to be generated on the last calendar date for their respective periods, if the "Run Task on Last day of Month" is specified in the tasker for reports. If this is not specified, then these reports will be triggered at the end of the last full week in the month. If you set the task frequency to Every Business Day or Every last business day of the Week, then the Weekly Report will be used.