An update failure is evidenced by no changes in the program file date/time stamps displayed in the Captools/net Server Control Panel after you have executed a update when you were prompted that there was a new update. This can occur due to Windows registry problems. The solution is to uninstall Captools/net and perform a download and install of the full Captools/net Installer. Since registry problems are often the root of this issue, we recommend that the uninstall be done using Microsoft's Installer Cleanup tool. The specific steps are as follows:
1) Download the Full Captools/net Server Suite installation by running the Captools/net Server Control Panel and clicking on "Help/Advanced/Download Latest Captools/net full installer".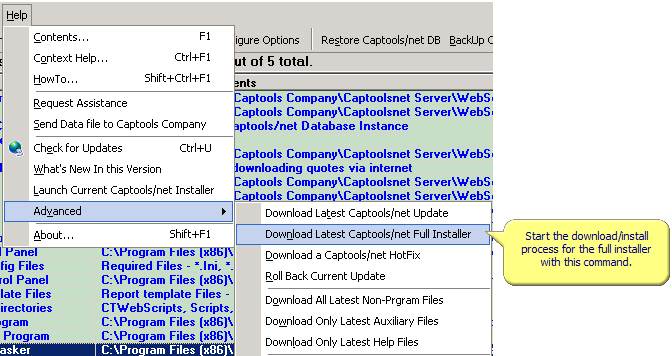 2.) While the process in #1 is running, download the Microsoft Windows Installer tool from http://download.microsoft.com/download/e/9/d/e9d80355-7ab4-45b8-80e8-983a48d5e1bd/msicuu2.exe (You may need to search for this if they have moved this location). Run it after download to install the tool.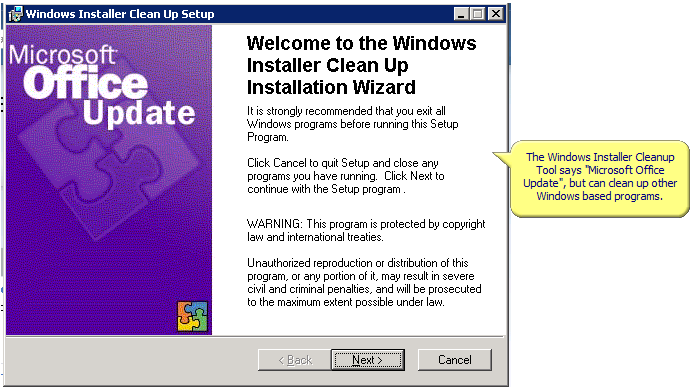 3) After the cleanup tool is installed, run it from the Windows Programs menu and use it to remove the Captools/net Server Suite from the list.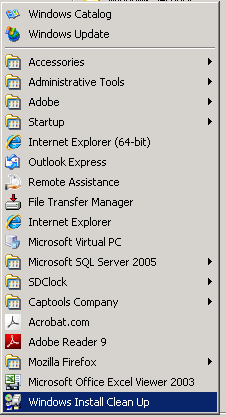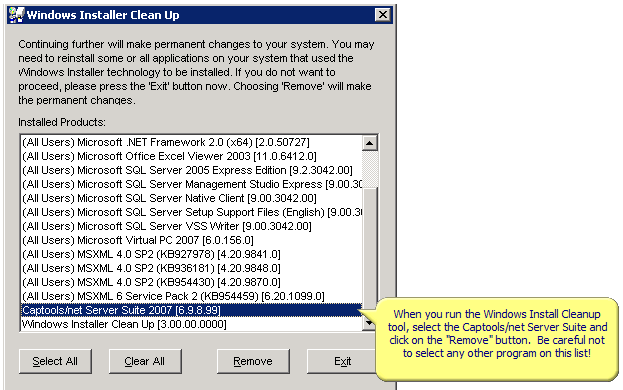 4) Finally, run the Captools/net installer downloaded in step 1 (CTNetServerSuiteSetup.exe, found in the \Program Files (x86)\Captools Company\Captoolsnet Server folder). If you've left your Captools/net Server Control Panel open, while doing the cleanup above, you can launch the Installer using the "Launch Current Captools/net Installer" command: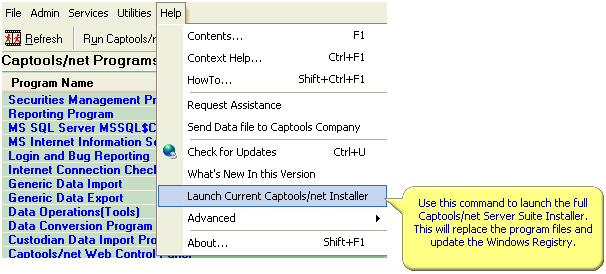 Upon completion of the install, you should see updated program files when you launch the Captools/net Server Control Panel
Uninstall Failure - Steps 2 through 3 above can be used to uninstall Captools/net if the normal Windows uninstall process fails. Please note that the Microsoft cleanup tool does not remove the Captools/net directory. If your intent is to re-install Captools/net, we recommend renaming the \Program Files (x86)\Captools Company folder to "Captools Company.Old", then reinstall the software. After reinstallation, you can move your database files from the \Database folder under the "Captools Company.Old\Captoolsnet Server" to the equivalent folder in the new installation (after first temporarily stopping the database in the new installation using the Captools/net Server Control Panel "Services/Stop Database" command).