For multi-user licensees, the Captools/net Home Page provides a means for communication between your Captools/net users and the person you designate as your Captools/net system administrator. It also provides a means for your system administrator to report software issues to Captools Company.
User Issues
Users below the Admin level can report issues to their Captools/net system administrator by using the Report Issue to Sys Admin function on the home page (link in red below). Such issues may be data related issues, an issue regarding user level permissions or may be a software issue. Typically the first two of these can be resolved by the system administrator, e.g. by updating data over which he/she has control. Software related issues may involve a user's "how to" question, which the system administrator may also be able to resolve based upon their knowledge of the software, or it may be a deeper issue that would require the system administrator to involve Captools Co.

Admin. Issues
The System Administrator can view user-generated issues via the View Data Issues link in the Admin Operations panel (see red link below). He or she may also use the Send Sys Admin Messages to Users link to generate messages that will be displayed to users in the Messages panel (also see below). This can be used to respond to a user generated issue.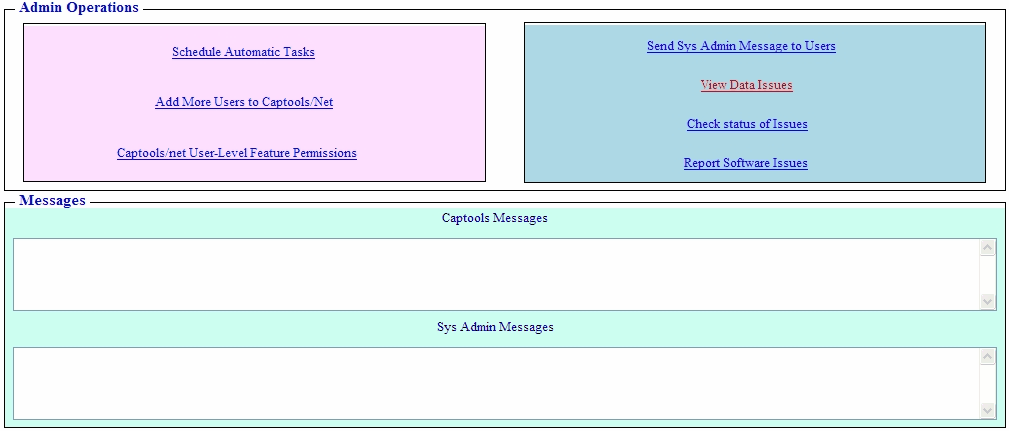 Software Issues
Issues which the System Administrator believes to be software-related, e.g. a "bug" or needed program feature, can be reported to Captools Co. via the Report Software Issues link (see above).