Server Updates - Captools/net Server contains technology to detect and download program updates from the Captools website. Installation of updates requires that the Captools/net server applications be shut down. Because of this, the updates are not automatically installed, but the system administrator will be notified of the availability of updates, or the administrator may check for updates through the Captools/net Server Control Panel Program when they click on the "Check for Updates" function (either from the menu or the button):

Note that the system administrator must have physical access to the server to install the updates. If updates are available you will be prompted to download them. These updates can include updates to the Captools/net desktop program, which users may in turn download and install from your Captools/net server.
Desktop Updates - As noted in the proceeding section, Captools/net desktop updates are downloaded to your Captools/net server from the Captools website. Each Desktop end user will be notified of the availability of updates when they run the Captools/net Desktop. The update installation may be run at that time. You may also check for Desktop updates via the CT/net desktop "Help" submenu: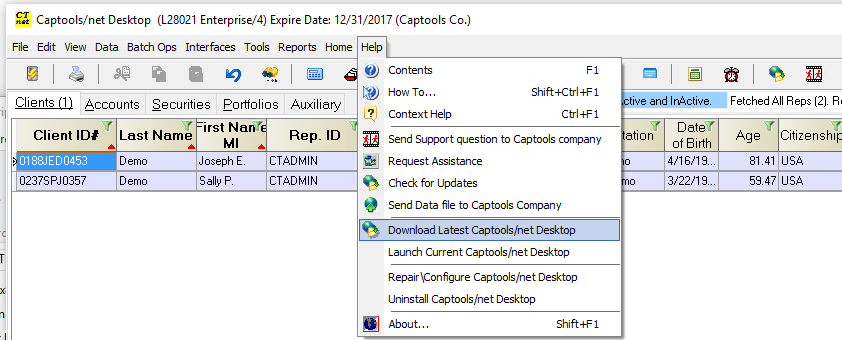 Because most of Captools/net's functionality resides in the server side applications, most updates will typically be server-side updates, thereby minimizing the need for most desktop users to be concerned with the download/installation process.