Symption (Windows XP): The IIS does not start and upon unistall and re-install of IIS we get the following error (screen shot attached):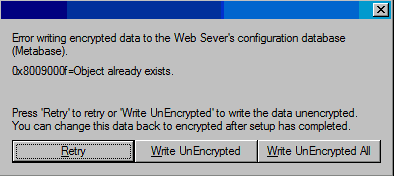 "Error writing encrypted data to the Web Server's configuration database(Metabase).
0x8009000f=Object already exists.
Press 'Retry' to retry or 'Write UnEncrypted' to write the data unencrypted.
You can change this data back to encrypted after setup has completed."
None the buttons below let us install the IIS successfully.
Use the following steps to resolve the error:
1.) http://www.iisfaq.com/Default.aspx?tabid=2955
2.) http://www.tech-archive.net/Archive/Internet-Server/microsoft.public.inetserver.iis/2004-02/1138.html
3.) http://lists.evolt.org/archive/Week-of-Mon-20020722/119238.html
4.) http://www.experts-exchange.com/Software/Server_Software/Web_Servers/Microsoft_IIS/Q_21023924.html