Certain file folders used by Captools/net need to have folder permissions set in order for Captools to properly function. These folders include the "Webscripts/CTScripts" folder under \Program Files (x86)\Captoolsnet Server as well as several folders under \Program Data\Captools Net (Windows 7). Normally the permissions for these folders are set automatically during Captools/net installation, but occasionally manual intervention is required to set these permissions if the scripts run during installation are blocked by third party security software.
The permissions can usually be re-set by running the Captools/net Server Control Panel and clicking on "Utilities/Windows Configuration Dialog" and then on the "Set Folder Permissions Automatically" button: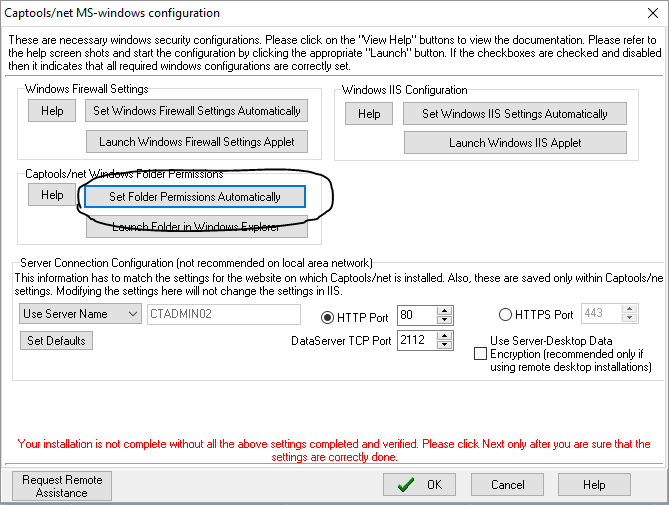 The actual permissions set are generally to allow the system "IUSR" and "Network Services" (Windows 7/later) access to the applicable folders so that the browser-based functions will have access to the files contained therein. To set the permissions manually open the applicable folders in Windows Explorer (you can click on the applicable button in the dialog above), and then right click and go to "properties", then go to the "Securities" tab and click on "Edit". If you see "IUSR" and Network Services" are already in "Group or User Names" select them and check "full control". If they are not there, click on "Add" then "Advanced" then "Find Now" and add these to the list.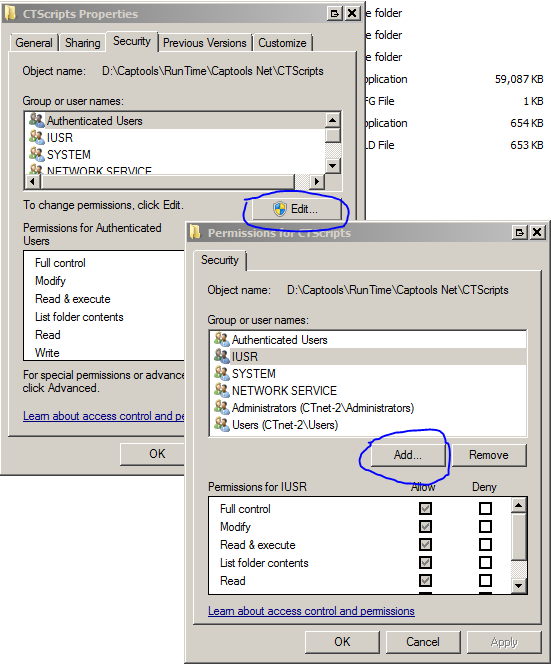 Third Party Data File Permissions
In addition to files under "Captools" in the Program Files and Program Data (Win 7) folders, folders containing third party data to be imported (e.g. custodian data files) must have permissions for "IUSR" and "Network Services" (Win 7) set in the same fashion as above. These permissions are normally set at the time you set the path to those data files in the Server Control Panel. You can cause the file permissions script to run for these folders simply by returning to the Custodian Import Options sub-dialog and checking the "Re-apply Permissions" option and clicking "Ok".